The Safe Families Office is located in the Fulton County Courthouse. It's Georgia's only lawyer-staffed, courthouse-based resource for survivors of intimate partner abuse seeking to obtain temporary protective orders.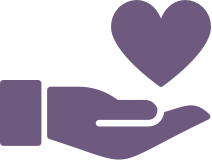 AVLF provides consultation services and direct legal representation for survivors of intimate partner abuse. Each consultation also includes a discussion of legal options, safety planning advice, referrals to other appropriate assistance, and focuses on respecting the survivor's opinions and goals. If filing a civil temporary protective order is appropriate and desired, AVLF offers assistance with completing the legal documents. Survivors also have access to AVLF's social workers, who can provide supportive services and access to a variety of resources to help them navigate the process of leaving an abuser.
AVLF's Intimate Partner Abuse Program, in collaboration with Partnership Against Domestic Violence and the Fulton County Superior and State Courts, established the Safe Families Office (SFO) – the only lawyer-staffed, Courthouse-based resource for survivors of intimate partner abuse in Georgia who want to obtain a temporary protective order. Through the provision of legal assistance and ancillary services that seek to improve survivors' quality of life, the SFO and its network make the justice system easier to understand and less intimidating. Lawyers, paralegals and law students trained by AVLF in the law and psychology of domestic violence now meet more than 3,400 visitors to the SFO every year, and offer them legal consultation, advice, direction, and when necessary, direct representation in their effort to secure Protective Orders, the highest protection offered by the law for the survivor and their family.
Families can face a number of different, difficult challenges when trying to access and navigate the legal process, including insufficient knowledge about the justice system, inadequate education to take advantage of the court's power, financial constraints, emotional and psychological barriers and the fear of future violence that may occur if the abuser becomes aware that the survivor has tried to take legal action.
In 2018 and 2019, when a survivor was represented by our staff or volunteers in their evidentiary Protective Order hearings, 98% of them were awarded extended Protective Orders. Having access to legal counsel, safety planning, and quality, life-affirming conflict management assistance offers real hope for rebuilding healthy, positive lives.