The Saturday Lawyer Program provides low-income Atlantans with free top-notch legal assistance. Our volunteer attorneys help with landlord-tenant disputes, unpaid wages, and more.
NOTE: The Saturday Lawyer Program has gone virtual! We're pairing volunteer attorneys with low-income Atlanta tenants via video conferencing. Watch the video below to learn more about the program.
DONATE TO THE FIGHT FOR EQUAL JUSTICE
---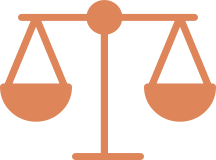 Low-income tenants too often face illegal evictions, unlawful withholding of security deposits, or unsafe living conditions that go unaddressed by their landlords. And if an employer fails to pay a worker's wages, the missed paycheck can be the difference between housing stability and eviction.
Our Saturday Lawyer Program recruits volunteer attorneys to help low-income Atlantans obtain the justice they deserve.
On Saturday mornings, volunteer attorneys receive a short training, then meet one-on-one* with potential clients to learn more about their legal problems. If the case seems viable, we partner clients with volunteers for further legal advice, counsel, and representation.
*During the COVID-19 crisis, our volunteers are meeting with clients virtually.
---
The Saturday Lawyer Program was just featured on NPR's Marketplace! You can read the story here.
---