Halfway Through a Landmark Year
---
A letter from Development Director Libby King.
---
Suddenly, it's June – and so much has happened this year already!
In just six months, Atlanta Volunteer Lawyers Foundation has hosted an Asthma Awareness Fair, a family law pop-up clinic, dozens of Saturday Lawyer clinics, two very successful fundraisers, Turn Up Turn Out events, and more. Our staff members have received awards of service and excellence, and we've spotlighted some of our amazing volunteers. We've even been in the news…a lot.
And as of June 27th, we've raised $369,698 for our first ever annual giving campaign – with an additional $136,900 pledged.

$369,698 is an incredible accomplishment. Some of the most generous members of our community have made this progress possible. We're halfway through the year, and there is still so far to go. We need your support now.
Meeting (or exceeding!) our first Annual Campaign goal will have a remarkable impact on Atlanta families. We'll be able to offer more holistic services, expand our place-based work, and connect and collaborate with more community partners to help Atlanta families stay safe and stable.
Although our annual Winetasting event isn't until November, we're gearing up for it now: this year, it's a thank you event for everyone who donates $350 or more to our Annual Campaign.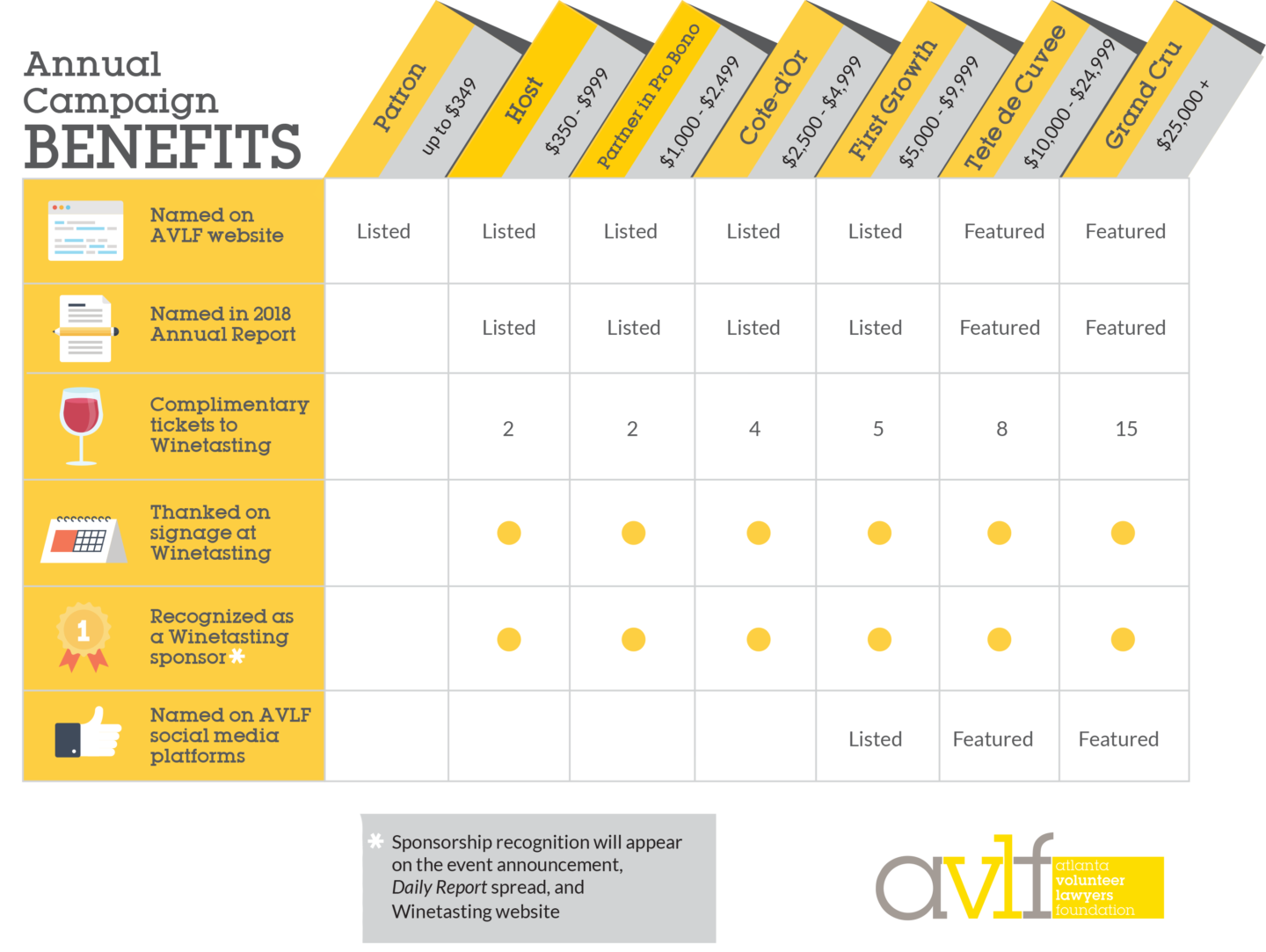 And for the first time ever, you can become a monthly supporter of the communities AVLF serves! You can set up an automatic monthly contribution to AVLF. It's the most convenient way to provide resources – and access to justice – for Atlanta families. 
We're so grateful to everyone who has brought us this far – and those who will carry us into 2019. 
As a donor, you are bringing crucial services to Atlantans in need, and showing your commitment to justice in your community.
We're especially grateful to our Steering Committee members, our Board of Directors, and our Junior Board, who have helped spread the word in the legal community and beyond. Their guidance has been immeasurable, and we cannot thank them enough for their leadership. 
We look forward to seeing what the next six months bring. We invite you to join us.
With gratitude, 

---
You can read much more about the Annual Campaign, our goals, and our progress at safeandstable.org.
---
Libby King
Development Director
Libby is originally from Columbus, Georgia. She has served the Atlanta community for almost 17 years in various capacities. Previous to working at AVLF, Libby worked as the Director of Institutional Advancement at Atlanta Technical College. Prior to this, she raised funds for ovarian cancer research and served in fundraising and community outreach roles at Visiting Nurse|Hospice Atlanta. She was a communications assistant in the Office of Governor Roy E. Barnes after graduating from Clemson University with a B.A. in Political Science.
---