AVLF Receives Partnership Award from Purpose Built Schools
AVLF | October 26th, 2021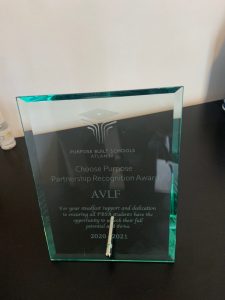 ---
This week, Purpose Built Schools Atlanta recognized us with a partnership award for our work in the Carver community. 
---
Purpose Built Schools, in partnership with Atlanta Public Schools (APS), works to deliver outstanding results for students and the surrounding communities through high-quality instruction, intentional enrichment opportunities and a strategic approach to serving families' needs beyond the school walls.
On October 25, Dr. Saunders, the School Engagement Manager at Slater Elementary School, surprised our team with a plaque in recognition of our hard work for families, and she knows she can call us anytime she has a parent with a housing issue. "You all always pick up," she said. We are honored to receive this gesture of gratitude and want to thank everyone on our team for continuing to help keep families in their homes.
You can read more about Purpose Built Schools here.
---
Learn more about Standing with Our Neighbors®.
---