Jamie Perez Receives Kurt Kegel Memorial Scholarship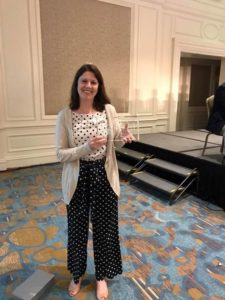 Earlier this May, the State Bar of Georgia's Family Law Section awarded AVLF's Safe and Stable Families Director, Jamie Perez, the Kurt Kegel Memorial Scholarship. One of five recipients of a Family Law Section scholarship to attend the annual Family Law Institute, Jamie was singled out for her accomplishments and received this special award at the conference. This is the second year the State Bar's Family Law Section has awarded the Kurt Kegel Memorial Scholarship.
Kurt Kegel was a respected family law practitioner who passed away in April of 2016 at the age of 49. He was the president of the Georgia Chapter of the American Academy of Matrimonial Lawyers and held many leadership roles in the Family Law Section of the Georgia Bar, including Chair of the section. He was married for 17 years with 3 children. The award was given in his legacy as an accomplished family law attorney.