AVLF Honors Dedicated Firms and Volunteers at Celebrating Service Luncheon
ASHLEIGH STARNES | October 30th, 2018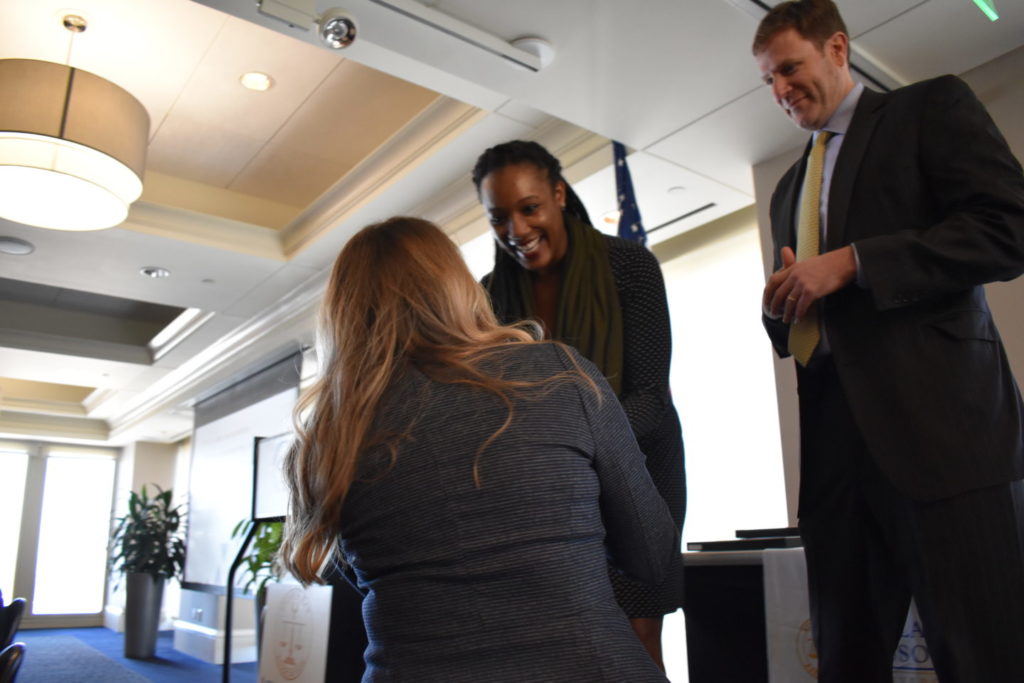 ---
At the Atlanta Bar Foundation's Celebrating Service Luncheon, we presented five awards to firms and volunteers who have shown a remarkable commitment to our mission this year.
---
On November 6th, the Atlanta legal community came together to honor those in the profession who commit themselves to service. The Celebrating Service Luncheon provides a platform for local organizations to honor those who have made a tangible difference in our community through volunteerism.
[See more photos of the luncheon in the Daily Report.]
Our honorees this year are true, holistic advocates for their clients. Not only do they take on the legal work, but they empower our families and schools to use their own voice in the fight for equal justice.


Our honorees this year are true, holistic advocates for their clients.
---
This year, Standing with Our Neighbors Staff Attorney Lauren Washington presented the awards.
"For our clients, simply surviving the day is becoming harder and harder," Lauren said. "They are living in a world where their needs are increasingly not being met. They come to us desperate for solutions to problems that should simply not exist in a just society. We are encouraged, however, that so many of you have responded to this reality by stepping up and being there for our neighbors and families."
The following descriptions are taken from Lauren's remarks at the ceremony.
1. Family Law Program Volunteer of the Year: Jill Byers
This year, Jill Byers agreed to represent a survivor of intimate partner abuse in her related divorce.
She advocated zealously for her client – an often difficult balance that involves both fighting for the client's needs but also respecting the client's choices and decisions about the case.
When tragedy struck shortly after the divorce was final, Jill went above the call to review the possible legal implications of the divorce, given the tragedy.
Her efforts did not go unnoticed: in addition to her client's gratitude, the Judge in the case also publicly acknowledged her dedication to the matter. Our Family Law Program depends on volunteers like Jill and the firm of Stern & Edlin.
2. Safe Families Office Volunteer of the Year: Christopher Green
Christopher Green has taken many cases with AVLF's Safe and Stable Families Project and has shown time and again that he stands with survivors. He repeatedly reaches out to our office to request new cases and shows, both in and out of the Courtroom, how much he cares about his clients. His clients have consistently told our office how grateful they are for his representation.
Christopher passionately presents their cases with expertise, protects them from the stress of the courtroom, and clearly connects with them. He doesn't hesitate to reach out if he thinks that there's additional assistance that the client might need to gain or maintain stability, and he stands as an advocate for those who are often silenced.
3. Guardian ad Litem of the Year: Alice Limehouse
Alice Limehouse has been an integral part of AVLF's Guardian ad Litem program for years, initially volunteering regularly as a pro bono Guardian ad Litem in contested custody cases with low-income families, and later becoming more integrated in the training and support portions of the program. Alice is a veteran family law litigator who uses her subject matter knowledge and expertise to be a passionate, consistent, and effective guardian in our cases.
Alice also recently volunteered to help develop AVLF's new and improved Guardian ad Litem training, including participating as a trainer. AVLF is indebted to her for support and dedication to our program,
4. Safe and Stable Homes Firm of the Year: Taylor English
In 2019, Taylor English reached a new high in demonstrating its commitment to serving low-income Atlanta tenants. Their accomplishments on behalf of our clients are simply too exceptional to not be listed:
In June, Attorney Coby Nixon and Marketing Coordinator Christina Craft brought a team of nine to AVLF's Saturday Lawyer Program, and have fostered wide-reaching firm engagement with our programs.
In July, after lengthy litigation, Attorney Jeff Nix settled a case on behalf of five tenants of a single dilapidated apartment building on the Westside. The $125,000 settlement was truly life-changing for his clients, and Jeff even ensured the clients received financial advice regarding their settlement funds.
In September, Attorney Michael Cicero won a significant Magistrate Court judgment that is one of the first-known examples of a tenant prevailing under Georgia's new law banning landlord retaliation and continues to represent the client in the appeal.
And on top of all of that, Attorney Shawntel Hebert led Taylor English in hosting a wildly successful school supply drive for Hollis Innovation Academy students.
Taylor English's holistic commitment to Atlanta's most vulnerable residents is truly exemplary. 
5. Safe and Stable Homes Volunteer of the Year: Morgan Harrison
Our Safe and Stable Homes Volunteer of the year comes from Arnall Golden Gregory, and knows first-hand that families living in Atlanta's worst slums are vulnerable and often have a sense of hopelessness. That's how Morgan Harrison's client, Ms. P. felt as a single mother of five living in a notorious apartment complex. After years of mold and structural decay, Ms. P's ceiling caved into her apartment, rendering the unit uninhabitable. Unfortunately, Ms. P's landlord failed to make any repairs, expecting Ms. P and her kids to just "deal with it".
After Morgan's demand that the landlord comply with Georgia law proved ineffective, she quickly sought an injunction in Fulton County Superior Court, which was granted. It required the landlord to provide Ms. P. and her children with "an alternative safe, sanitary, and habitable dwelling place" at the landlord's expense, and to repair the apartment's structural deficiencies. The needed repairs were so extensive that the landlord continues to pay for replacement accommodations while repairs and litigation are ongoing.
Morgan's work has shaken a neglectful landlord out of its complacency and pierced her client's hopelessness with action.  To Ms. P. and her family, Morgan is a hero. 
---
Check out last year's honorees in the 2018 Annual Report.
---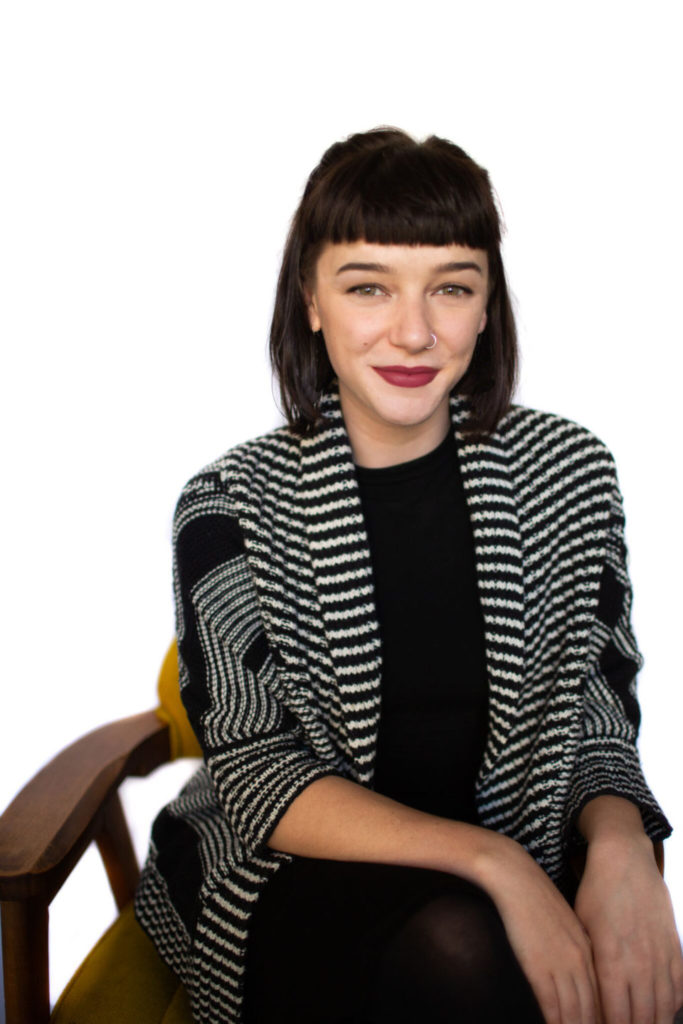 Ashleigh Starnes
Communications Manager
As AVLF's Communications Manager, Ashleigh develops strategy, design, and content for AVLF's digital and print communications. She's deeply committed to sharing resources and education with her community at large – and makes it her mission to support AVLF's programs and outreach in all they do.
Ashleigh is an Atlanta native. Before joining AVLF, she was a Fulbright Scholar in Turkey. Ashleigh holds a Bachelor's in English and Linguistics from the University of Georgia. She is also a performance artist, and can occasionally be seen performing movement pieces, poetry, and combinations of the two around Atlanta and beyond.
Check out more from this author. 
---