The first day of school is always a frightening one. You walk through the school doors not knowing anyone. Who will be your friend; who won't be? When you open the door to a school year, the possibilities are endless.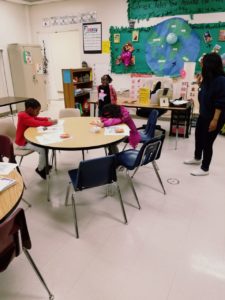 When AVLF launched the Standing with Our Neighbors program in September 2016, there were a lot of things we didn't know, but one thing we did: families needed help. With enrollment turnover surging to 40% during the 2015-2016 school year, families needed help to keep their kids in school. That help came in the form of a community advocate, a staff attorney, and an army of volunteers and partners to back them up. 
With their help, our team at Thomasville Heights Elementary hit the ground running. They already knew where the problems were: The Forest Cove Apartments and other unstable and unsafe housing where students simply couldn't thrive. And they knew who they wanted their friends to be: the residents of Thomasville Heights. 
In one year, Community Advocate Christal Reynolds and Staff Attorney Ayanna Jones-Lightsy went from being the new kids to having everyone know their names. They have become trusted members of the community, fighting for families to stay in their homes and children to stay in their school.
Since kicking off Standing with Our Neighbors a mere 270 days ago: 
116 local residents learned about their rights as tenants through AVLF-sponsored information sessions, pop-up clinics, or other community events
75 elementary students saw increased housing stabilization or had their housing conditions improved as a result of AVLF's advocacy
69 free health and safety products were provided to families, including 14 dehumidifiers and $2,900 in emergency utility and housing assistance
67 residents were screened, given in-depth advice, or provided full legal representation

More than 20 cases involved imminent displacement, and over 40 involved poor conditions that often lead to displacement
36 of these cases were identified as involving an asthma-related housing issue

35 volunteer attorneys across multiple firms conducted in-depth legal research as part of AVLF's action teams
32 volunteer attorneys took on cases, and some took on more than one
Additionally, AVLF and our partner firms sponsored the Thomasville Heights Elementary School Fall Festival, providing volunteers for the event, and contributing to the fall festival at the neighboring Boys and Girls Club.  We also organized the donation of 31 winter coats for families in need and led a large group of volunteers on a neighborhood clean-up. 
Check out our photos from our first year in schools, and keep an eye out for more. We're expanding to five new schools for the 2017-2018 school year. 
---