Quick snapshot: Rachel Fox Weitz. Received a BA in Political Science from the University of Michigan and a JD from Emory University School of Law. In between, worked in Washington, DC on presidential campaigns, as a political media consultant (made TV and radio ads for campaigns) and as a public affairs consultant. Worked in the corporate group at McKenna Long & Aldridge before moving in-house to the law department at Delta Air Lines in 2014. Member of the AVLF Junior Board of Directors for about four years.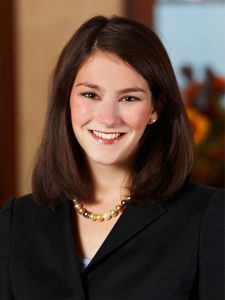 How did you get involved with Atlanta Volunteer Lawyers Foundation? Marty Ellin called me soon after I'd started practicing law and asked when I'd be free for lunch so he could tell me more about AVLF. The rest is history!
Give us your best elevator pitch – what does AVLF mean to you? AVLF is an incredibly well-run organization that provides unique, essential and life-saving support to members of our community. Through its critical programs, like Saturday Lawyers and the Safe Families Office, AVLF links local attorneys with clients facing urgent challenges to give these clients essential access to the justice system, which they might not otherwise have.
What are you proudest of professionally? As a native Atlantan, I grew up flying Delta and have always seen it as a pillar of the Atlanta community and economy. I'm thrilled and humbled to now be a member of the Delta team by working as one of its lawyers.  More importantly, I'm proud to be part of a company with such a commitment to better our community, including its support of pro bono legal work.
And personally? My sweet, curious, and loveable ten-month-old son.
---