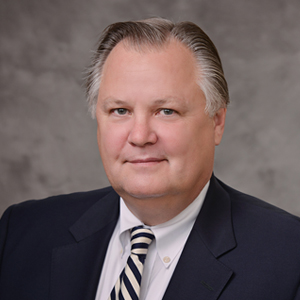 Quick snapshot: Jim McGinnis. I graduated from Auburn in 1979 and Mercer Law School in 1982. My first job was as an Assistant D.A. in Cordele, Georgia, working for Gary Christy. I did my first jury trial within a month of starting work. I wound up in Atlanta practicing exclusively in the area of family law. I've been with Warner Bates for the last five years.
How did you get involved with Atlanta Volunteer Lawyers Foundation? I got involved with AVLF because of my partner, Barry McGough. Barry noticed that the funding for the Guardian ad Litem program in Fulton County had been eliminated. Barry suggested that our firm host a fundraiser to try to help. I contacted Marty Ellin, director of AVLF, and we had a fundraiser at our office to benefit the Guardian ad Litem program. That was five years ago. Last week we held our fifth annual fundraiser and raised over $20,000 for AVLF to benefit the Guardian ad Litem program.
Give us your best elevator pitch – what does AVLF mean to you? My work with AVLF means being involved in an organization of compassionate people who care about delivering legal services to those who desperately need them, but would otherwise have no access to these legal services. Battered spouses have a place to turn because of AVLF. Tenants who get screwed by slumlords have a place to turn because of AVLF.
What is your favorite AVLF moment? In the first pro bono divorce case I handled through AVLF, I represented a disabled Marine veteran who had been abused by her husband. We met in my office to prepare for a hearing the following week. When I told her that she could meet me at my office and we could ride down to the hearing the following week, she told me how relieved she was. She explained that she was worried about court because she didn't know how she was going to pay for parking. At that moment, I realized how fortunate I am and how much I take for granted. I also realized that there is a segment of our society that is less fortunate and deserves our help, both as lawyers and people.
What are you proudest of professionally? I'm very proud of being a partner at Warner Bates. I'm also very proud of being on the board of the Atlanta Volunteer Lawyers Foundation. The people who work at the Foundation could all make more money by working somewhere else. However, they choose to work for those less fortunate and I respect that choice. The Board of Directors is made up of the best and the brightest of the Atlanta legal community. I'm thinking they made a mistake by letting me on the board.
And personally? Being married to the same wonderful woman for 29 years and raising three sons who all graduated from college with no debt and a paid for car. We all seem to be pretty happy!
Is there anything else you want our readers to know? Yes. Get involved with the Atlanta Volunteer Lawyers Foundation. Attend the wine tasting in November. Become an Atlanta Volunteer Lawyer. You will be glad you did.
---