Quick snapshot: Christin Camp Lumpkin. I graduated from Samford University in 1997 with a BA in English Literature, and Vanderbilt Law School in 2000 where I served as the Senior Notes Editor for the Vanderbilt Law Review. I started my career on the Corporate team at King & Spalding. After a little over five years at King & Spalding, I left to join the legal department at Global Payments Inc., which is a leading worldwide provider of payment technology services. I just hit my eleven year anniversary at Global Payments (!)
How did you get involved with Atlanta Volunteer Lawyers Foundation? I got involved with AVLF through Walt Davis, who is a fellow Vanderbilt grad. He suggested I meet with Paul Murphy and Dena Hong, who told me more about AVLF. I was very impressed with how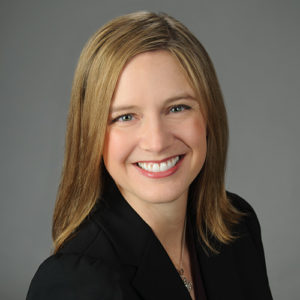 passionate both Paul and Dena were about the organization, as well as how much AVLF is able to accomplish. I joined the Board of Directors last summer and am thrilled to be a part of it.
Give us your best elevator pitch – what does AVLF mean to you? AVLF's programs serve so many in our community in need, but the Safe Families Office has caught my interest the most. As a woman and a mother, I can only imagine how frightening it must be for these women to be in such a horrific situation where they are subject to abuse and also fearful for their children. The thought of taking their abuser to court must seem overwhelming and frankly not possible given the lack of knowledge of the system and in many cases the lack of financial resources. The Safe Families Office can help these women with these issues, and often they can leave the Safe Families Office the very same day with a protective order. The fact that this office exists and women and their children can gain power knowing their options, including safety planning, is incredible and so important.
What are you most looking forward to as a new Board member? I'm most looking forward to continuing to get involved and help out as much as I can. The people I have met on the Board are really friendly and compassionate people, and the staff members are top-notch. I hope to spread the word about the programs that AVLF offers and get others involved who may not know all the wonderful and important things that can be accomplished through AVLF.
What are you proudest of professionally? I have been with Global Payments through various management changes as well as business directions. It's been exciting to be at a place where things can move fairly quickly, and where the industry changes all the time, because it forces you to continue to push yourself and learn. I've had a variety of responsibilities in the legal department and they continue to grow, and I'm proud to have worked my way up the ladder. The most rewarding thing for me is that I have built great relationships with my long-term clients here and I have learned just as much from them (probably more!) as they have from me.  I'm also very proud to be a member of the Board of Directors for AVLF. I continue to be impressed with the wonderful people who work there and how dedicated they are to the organization. They have all made a conscious choice to work for this incredible cause even though I'm sure they could work anywhere.
And personally? My husband, Michael, and I just celebrated our seven year anniversary and are raising two young children who continue to challenge and amaze us every day. At ages five and three, they keep us on our toes! Just when we think we have a parenting skill mastered, they change the game on us. We are ridiculously proud of them.
Is there anything else you want our readers to know? Get involved! Even if you do nothing more than attend some of the events, you will be raising money and awareness for AVLF. The Wine Tasting was so fun and beautifully done, and I'm greatly looking forward to the PurSHOEing Justice event on February 8th next year at King & Spalding. This event raises awareness of domestic violence in the Atlanta area and specifically benefits the AVLF's Safe Families Office. You can raise money while sipping a cocktail, eating good food and looking at beautiful shoes – it's a win-win!
---