On April 1, 2016, Atlanta Volunteer Lawyers Foundation officially launched its Family Law program for survivors of intimate partner violence. Adding such a program has been a goal of AVLF for years. Often, obtaining a temporary protective order is just the first step in breaking free from the cycle of violence. Many survivors of domestic violence are married to or have a child with their abusers. Many have claims for unpaid child support. Many are men who have not legitimated their children and if they want protection from a TPO, they must do so knowing the children may remain in the care of the abusive woman. While a temporary protective order may give the survivor separation from his/her abuser, as well as child support, alimony, and/or custody, that order is only valid for 12 months. If additional steps aren't taken to permanently secure separation, financial, and custodial matters in a separate family law action, survivors are often forced to turn back to their abusers at the end of the 12 months.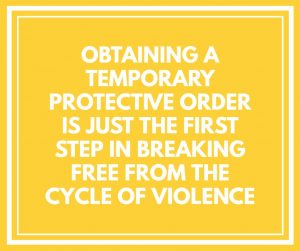 AVLF was thrilled to receive a grant from the Victim Legal Assistant Network (VLAN) that has allowed us to hire a full-time family law staff attorney, Nilufar Abdi-Tabari, to coordinate the provision of pro bono family law services with our clients, as well as a social worker "Navigator," Camille Millar, to provide social service support to the clients paired with family law attorneys for representation. AVLF's model has always been to pair willing Atlanta-area volunteer attorneys with clients in need of pro bono services. There are too few pro bono family law programs available to low-income metro-Atlantans. We invite all Atlanta-area family law attorneys to take on one pro bono case per year through this program. Your support and willingness to participate in this program is absolutely essential to allow survivors of domestic violence to truly break free from the cycle of domestic violence. If you are interested, please contact Jamie Perez at jperez@avlf.org.
We are so grateful to the following attorneys who have agreed to partner with us on this new venture, which will allow us to provide a more holistic and permanent solution to addressing the pervasive problem of domestic violence in Atlanta:
Kimberly Ader
Lawler Green Prinz, LLC
Ivory Tertenia Brown
Ivory T. Brown, P.C.
John Lind Collar, Jr.
Boyd Collar Nolan & Tuggle LLC
Alexander R. Cutler
Lawler Green Prinz, LLC
Jennifer Leigh Evans
Davis, Matthews & Quigley, P.C.
Sally Fox
Fox Legal, LLC
Hannibal Heredia
Hedgepeth, Heredia & Rieder, LLC
Julia H. Hill
Lawler Green Prinz, LLC
Rebecca Hoelting
Hoelting & McCormack, LLC
Nancy Lawler, Esq.
Lawler Green Prinz, LLC
Jonathan R. Levine, Esq.
Levine Smith Snider & Wilson, LLC
Elizabeth Green Lindsey
Davis, Matthews & Quigley, P.C.
John Mayoue
Mayoue Gray Eittreim, P.C.
Rachel Platt
The Platt Law Firm
Pilar J. Prinz
Lawler Green Prinz, LLC
Rebecca Crumrine Rieder
Hedgepeth, Heredia & Rieder, LLC
Jed Silver
The Silver Law Firm, LLC
Amy K. Sullivan
Lawler Green Prinz, LLC
Louis Tesser
Kessler & Solomiany LLC
Kristin Zimmerman
The Platt Law Firm
---