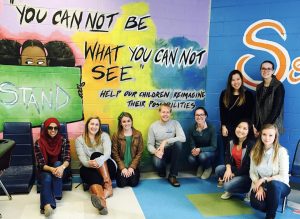 Earlier this month, students from Georgia State University's College of Law spent their spring break with AVLF. As part of an alternative spring break program hosted by GSU's Center for Access to Justice, 12 students spent their week with AVLF learning about the housing crisis in Atlanta and the unique position attorneys have to fight back against it.
In its first year, this alternative spring break program pushes students to learn and grow outside of their classrooms. It encourages them to become agents of social change through education, self-reflection, and—most importantly—through direct service. By challenging students to connect one-on-one with clients in need, they are given the tools to critically examine social issues and take thoughtful action toward their resolutions.
"This experience completely opened my eyes to a problem I had no idea existed. It has forever changed me for the better." – GSU Law Student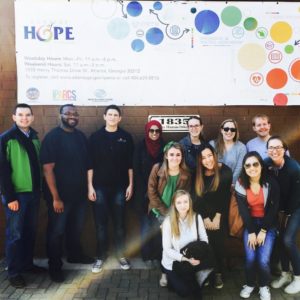 In the eight days the GSU law students spent with AVLF, they covered a huge amount of ground: interviewing clients without access to transportation in their homes, attending eviction court, volunteering at know-your-rights clinics, and taking driving tours of the neighborhoods most impacted by Atlanta's housing crisis.
Here at AVLF, we had a great time. We were so inspired by the enthusiasm and creativity each student brought with them—and we are grateful for their service.  
Check out what the students had to say about their spring break trip, along with photos from the week below. 
"As a 3L about to begin private practice, participating in GSU's pilot alternative spring break program was an unparalleled experience. Having a legal education means utilizing our newfound knowledge and accompanying privilege for all others. Regardless of our clients' background, they deserve the best of us. The struggles and trials of those can afford it the least may deserve it the most. This alternative spring break trip solidified this the belief for me, and it is an experience I hope to carry with me through my legal career."

---

"I learned more about housing law and access to justice this week than in one and a half years of law school classes and volunteering."

---

"Most importantly, I learned how I can make a difference, both as a lawyer and as a person. Although the task is overwhelming, our contributions are desperately needed. At the end of the day, these situations are right here in our backyard, and these people are our neighbors. It is my duty to make sure every can have the American dream accessible to them."

---

"I had very little interest in the public interest area before this week, but this trip has completely changed my outlook of the legal field. Pro bono work is so necessary."
---